CLASSICAL AND LIGHT POPULAR MUSIC

---

Ensembles to suit your special occasion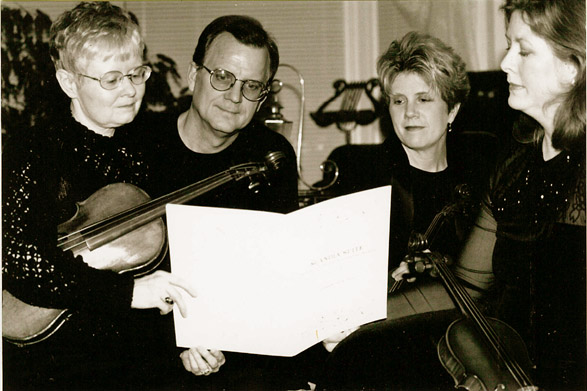 Strings of Choice . . . Add a touch of class to your event!
String ensembles made up of Toledo and Adrian Symphony players and University of Toledo and Adrian College music faculty can offer the perfect touch to your wedding, reception, party or other special event. These are experienced professionals whom many clients have chosen to rely on for a top quality job with their musical needs. (Click on Testimonials to view some of their comments.) Let us take the worry out of the music for your event.
Our usual group is a string quartet, two violins, viola and cello, performing classical and light popular music, but smaller ensembles--trios, duos, some including harpsichord, are also available. The smaller ensembles are limited primarily to classical music, but the quartet has a large amount of lighter, more popular works. Schedules permitting, we will work to fulfill your musical requests at competitive prices. Book early to confirm your date! Add sophistication and make your event extra special. Contact any of the following:
Jim Anderson Cecilia Johnson Alice Petersen
734-856-8181 419-475-2481 419-475-6177
jeaca@buckeye-express.com cejohnson@bex.net alice.petersen@utoledo.edu
The primary performers for Strings of Choice are members of the Scandia String Quartet: Cecilia Johnson and Dana Mader, violins, Alice Neff Petersen, viola, and James Anderson, cello. (See picture and bios below.) When one or more of these are not available for a particular date, we use other equally competent professional players. Our trio could be two violins and cello or harpsichord. Duos are two violins, violin and cello, or violin and piano or harpsichord. We could also supply a vocalist, a trumpet player or an organist, and possibly other instrumentalists for a wedding. The quartet has a CD with excerpts of many of our wedding selections which you may use to help choose your music. We will work with you in any way you choose, and you may select as many or few of the particular pieces as you wish. For a special touch at your Christmas party, our string quartet has a large amount of holiday repertoire to entertain you.
Performance for weddings would include prelude music, processional(s), requested music during service, recessional, and postlude music until guests are out of area. For weddings, the fee includes phone calls/emails and one arrangement meeting if needed, and may involve rehearsing with a vocalist immediately prior to performance at the event location, two hours maximum total time including rehearsal. Any other extra rehearsal with other non-contracted performers would require an additional fee. Attendance at the wedding rehearsal, if desired, can be by only one performer (schedules permitting), for an additional $25 (plus mileage if applicable), $30 at Nazareth Hall. The full ensemble cannot attend a rehearsal.
The Scandia String Quartet may also be available to perform a full chamber music concert of classical music, possibly including other musicians such as a singer, pianist, or other instrumentalists, depending on repertoire chosen. If you offer a concert series, or would just like to present a concert, please consider the Scandia String Quartet. We are also available to accompany choral works for church choirs or other choruses for special presentations, or to collaborate in other ways as needed.
Call or email any of us for prices specific to your ensemble wishes and for scheduling. We will send you a contract which should be returned with 50% of the fee as a deposit to guarantee your date. The remainder is due by one week before the event. Mileage will be added for locations beyond 20 miles from Toledo.

from left to right:


* Cecilia Johnson, violin




Dana Clare Mader, violin


James Anderson, violoncello



Alice Petersen, viola *


Violinist

Cecilia Johnson

serves on the music faculty of Adrian College and teaches part-time at the University of Toledo. She is founder and co-director of central city arts after school program CYMBAL (Community Youth Motivated By Arts Learning), now entering its 5th season. She serves as concertmaster for both the Ballet Theatre of Toledo Orchestra and Sono Novo, a new socially conscious chamber orchestra in residence at Trinity Episcopal Church.

Previous orchestral experience includes many years with the Toledo Symphony, the West Virginia Symphony, the Fort Wayne Philharmonic, the Cincinnati Chamber Orchestra, and the Cincinnati Ballet Orchestra.

She earned both her B.Mus. and her M.Mus. in violin from the UCincinnati College-Conservatory of Music, studying with Jens Ellerman and Makoto Kaneshiro. She and husband, tenor Erik Johanson share the wonderful adventure of raising their daughter, Linnea, and supporting her as she finds her niche in the arts world.

As a musician, Cecilia feels a deep responsibility to use this and other art forms to bring about positive change in our society.

Dana Clare Mader, violinist of the Scandia Quartet, is a graduate of UCincinnati College-Conservatory of Music.


She was a member of the Capetown, South Africa, Symphony Orchestra and Orquesta Sinfonica de Bilbao, Spain. In the USA, she has played with the Sarasota Opera Company, the West Virginia Symphony, the Fort Wayne Philharmonic, and recently with the Toledo Symphony. She also teaches several violin students in the Fremont/Gibsonburg area.

James Anderson

is principal cellist of the Adrian Symphony, where he has played for sixteen years. As a very active freelance musician in northwest Ohio and southeast Michigan, he is a member of Strings of Choice and the Scandia String Quartet, performing at weddings, receptions and other special occasions. On occasion he still performs with the Toledo Symphony.
Jim began cello at the age of 11, and by age 17, he was principal cellist of the Toledo Youth Orchestra, with which he performed the Lalo Cello Concerto in 1969. As a performance major at BGSU, he as a junior won the School of Music competition, performing the Dvorak Concerto with the BGSU Symphony Orchestra.
Jim studied with Peter Howard, former principal cellist of the St. Paul Chamber Orchestra, and later in Italy with the renowned Andre Navarra. He also studied in a master class with Janos Starker. Jim has performed in Chicago, Columbus, Cleveland, New York, Ann Arbor, Washington D.C., and Boston. He played in the Toledo Symphony from 1970-74, performing also in the TSO string quartet, and was formerly associate principal cellist with Lima Symphony.
Jim lives in Lambertville Michigan with his wife Charlene. Although being very involved in music, Jim actually makes his living currently as plant manager at Ort Tool & Die Corporation in Erie, Michigan.

Dr. Alice Neff Petersen

is a Toledo native.

Area violin teachers were Mrs. Betty Foster and Dr. Paul Makara.

She holds the B.S. in Education, M.Mus., and Doctor of Arts degrees from Ball State University, studying with Otto Feld and Robert Slaughter.

Interim studies included summers at Brevard Music Center, Rocky Ridge Music Center, Taos School of Chamber Music, University of Oregon and numerous workshops.

She spent a year of study and travel with the German Music Center program of the U. of Oregon, which included working with conductor Helmut Rilling, and violin study with recording artist Suzanne Lautenbacher.
Since her return to Toledo in 1978, she has been a violinist in the Toledo Symphony, and since 1980 with the Toledo Opera.

Besides the violin, her other area of musical interest is early music, the subject on which she wrote her dissertation.

Since 1980 she has also been a part-time UT faculty member as director of the early music ensemble Collegium Musicum.

In 1979 she initiated the community ensemble Musica Antigua de Toledo, in which she sings and plays several historical instruments. The group has its own series concerts, and performs as part of the Arts Education Project of the Toledo Public Schools.

She also is the violist in the Scandia String Quartet and Strings of Choice performing ensembles.
Top of Page
Testimonials
What our clients and associates are saying about Strings of Choice:
Your playing was beautiful! We received many compliments on how lovely the
music was and on the high quality of your quartet. Most importantly, Lauren
was extremely well pleased!
You were also so helpful and easy to work with. It was a pleasure working with you.
Your music added more beauty to an already lovely and joyous occasion.
Jackie B.
We wanted to send a quick note to thank you for being such a special part of
our wedding day! The atmosphere that you were able to create through your
music was exactly as we had envisioned for our reception. You make absolutely
beautiful music and we appreciate you sharing your talents with us.
Kim and Kevin E.

The string trio was such a great addition to our outdoor ceremony. We
appreciate your time in meeting with us and your overall professionalism.
Megan and Jason HelmanI can assure you our guests were delighted to hear such
wonderful selections during dinner and, of course, during the wedding. The
"strings" were a highlight of the wedding festivities.
Barbara M.
You and your associates helped make what can be a stiff and uninspiring
ceremony a lively, joyful and interpretive event. We are so very grateful!
In a world full of strife, thank you for the blissful moments of peace you
gave us all.
Alan and Carol D.

... your quartet performed for my wedding ... I just wanted to personally
thank you for doing such a beautiful and professional job! It was the perfect
element in the wedding and I had always dreamed of walking down the aisle to
Canon in D. Your rendition was wonderful and better than I had imagined. I
just finished watching the DVD of the ceremony and was able to truly listen
and enjoy your music.
Minya N. S.
Your playing was beautiful.
Eric G. Johanson, Music Department, University of Toledo


Top of Page
Strings of Choice Wedding Selections
All of the on-line audio selections linked below are in .mp3 format; make sure your system has software to play it.

Suggestions for the Prelude (Click on a link to hear a minute or so as played by our ensemble.)

Suggestions for the Processional (Click on a link to hear a minute or so as played by our ensemble.)

Suggestions for the Recessional (Click on a link to hear a minute or so as played by our ensemble.)


Suggestions for Music Following the Recessional (Click on a link to hear a minute or so as played by our ensemble.)


Other Selections: (Not available as on-line samples)


Rondo

H. Purcell
Hymne

H. Purcell
Chaconne

G. F. Handel
Sarabande

G. F. Handel
Ritornello

G. F. Handel
Meditation from "Thais"

J. Massenet

Adagio from Organ Sonata

F. Mendelssohn
Gavotte

P. Rameau

Sunrise, Sunset, from "Fiddler on the Roof"

J. Bock, S. Harnick

As the Deer

M. Nystrom

Morning Has Broken

E. Farjeon

On Eagles' Wings

M. Joncas

Where'er You Walk

G. F. Handel
The

Lord's Prayer

Malotte

One Hand, One Heart, from "West Side Story"

L. Bernstein


St. Anthony's Chorale

J. Haydn / J. Brahms


Waltz in G (Ab)

J. Brahms


Nocturne from "Midsummer Night's Dream"

F. Mendelssohn

Panis Angelicus

C. Franck


Ave verum corpus

W. A. Mozart

Of course, selections may be chosen from any category.

Web site designed by Alice Petersen and David Christian Nelson, last update May 20, 2008